REthinking Historical Perspectives – The Story of the Lookout Mountain Cave Guns
For ages, spectators and residents of Chattanooga, Tennessee have been genuinely captivated by its scenery. There is no vantage point of the city better than that from atop Lookout Mountain. In fact, the breathtaking view from Point Park is believed by many to be unparalleled anywhere in our nation. However, history has proven that what is hidden within the mountain is just as mystifying as what is around it. From the world's largest underground waterfall – Ruby Falls, to seemingly endless miles of caves, to priceless buried elements of Civil War history, the mountain has many closely guarded treasures.
On May 16th, many of the amazing folks of Lookout Mountain came together at the Town Hall and Fire Hall to celebrate and embrace some important, unearthed treasures. At the center of the celebration was a merger of dreams of Police Chief Chuck Wells and Carnegie Hero Charlie "Skip" Harris to find the perfect open-to-the-public home within a spectacular display for some very importantCivil War artifacts that were found within the caverns of LookoutMountain. The reveal was captivating to everyone in attendance including our very own REthink Development Co-Founder, Jon Chadwick & REthink Transaction Coordinator, Courtlyn Ison (Charlie's stepson and granddaughter).
In 2018, Charlie Harris published his third book titled The History and Story of the Lookout Mountain Civil War Musket Cave Guns. It tells the amazing story of nine Civil War muskets that were left and later discovered in a cave on the side of Lookout Mountain.
When Chuck learned the story of the Lookout Mountain Cave Rifles, his vision of displaying the collection of guns while honoring the man who has dedicated his life to finding and preserving them was born. With the help of Lookout Mountain Mayor Walker Jones, Chuck worked to bring this piece of history home to Lookout Mountain. At the time, the guns were not for sale. However, when passion and persistence find a merger, mountains can be moved. Chuck shared his vision with Charlie and together with several other key individuals, worked to bring their story (below) to life.
In 1931 a Chattanooga Lawyer, Mr. Watson, was hiking around the west side of Lookout Mountain and discovered a cave. Upon exploring the cave he stumbled upon 9 Civil War Muskets leaning against the back wall. Each weighing approximately 10 pounds a piece, he carried the 90 pounds of history down the mountain and displayed them at his office in Downtown Chattanooga. When Mr. Watson died in the mid-1950s, his wife had no use for the "junk" and gave the guns to anyone that wanted them. The 9 guns were sadly dispersed all over the south. Charlie Harris, age 78, has spent over 60 years locating 7 of the 9 guns and collecting 6. Charlie's Civil War expertise and enthusiasm, with the help of numerous others in Chattanooga have returned the 6 to Lookout Mountain.
With many years of studying the "Battle Above the Clouds" Charlie learned that General Moore's Brigade was captured and exchanged, leaving them no weapons for training. A large number of obsolete Muskets were found in a building, some with bent barrels and others with missing parts, but all the same they were able to use to train. Often times they didn't have the proper ammunition and had to ram leaves down the barrel to keep the bullets from falling out.
In early October General Moore's Brigade was ordered to come to Chattanooga, being promised new weapons as soon as they arrived but were required to bring their old, training guns with them. Once they arrived in Chattanooga, there were no new weapons. Weeks later they were sent to the foot of Lookout Mountain with the same promise, same requirement and unfortunately the same discovery of no new weapons. Finally in mid-November they were ordered up onto the side of Lookout Mountain under General Walthall with about 2500 Confederate soldiers. Being told to leave their tents and bring their old weapons with them. They were told new equipment would be waiting for them at their new destination. Again, no new rifles and no new tents.
The temperature dropped to about 5 degrees and brought along 4-inches of snow. With no tents for shelter, at least one squad migrated around to the West side of Lookout Mountain and found a cave to live in. On November 24, 1863 Yankees totaling 14,000 began a sweeping maneuver to the North and around the point of Lookout Mountain. This is the story of the "Battle Above the Clouds" that lasted from sunrise to 12:00pm on November 24, 1863. For some reason the 9 obsolete weapons were left in the cave until they were later discovered in 1931.
If you find yourself intrigued by the history or just so happen to drive that way, stop in to the Town Hall to see the proud display and learn more about the story of the cave guns.
REthinking historical perspectives is perhaps important for each of us to do. Especially those of us blessed to live in the vicinity of such amazing history. Isn't it time for you to also REthink the way you feel about Real Estate? A set-apart experience is awaiting you at REthink Development – Greater Downtown Keller Williams.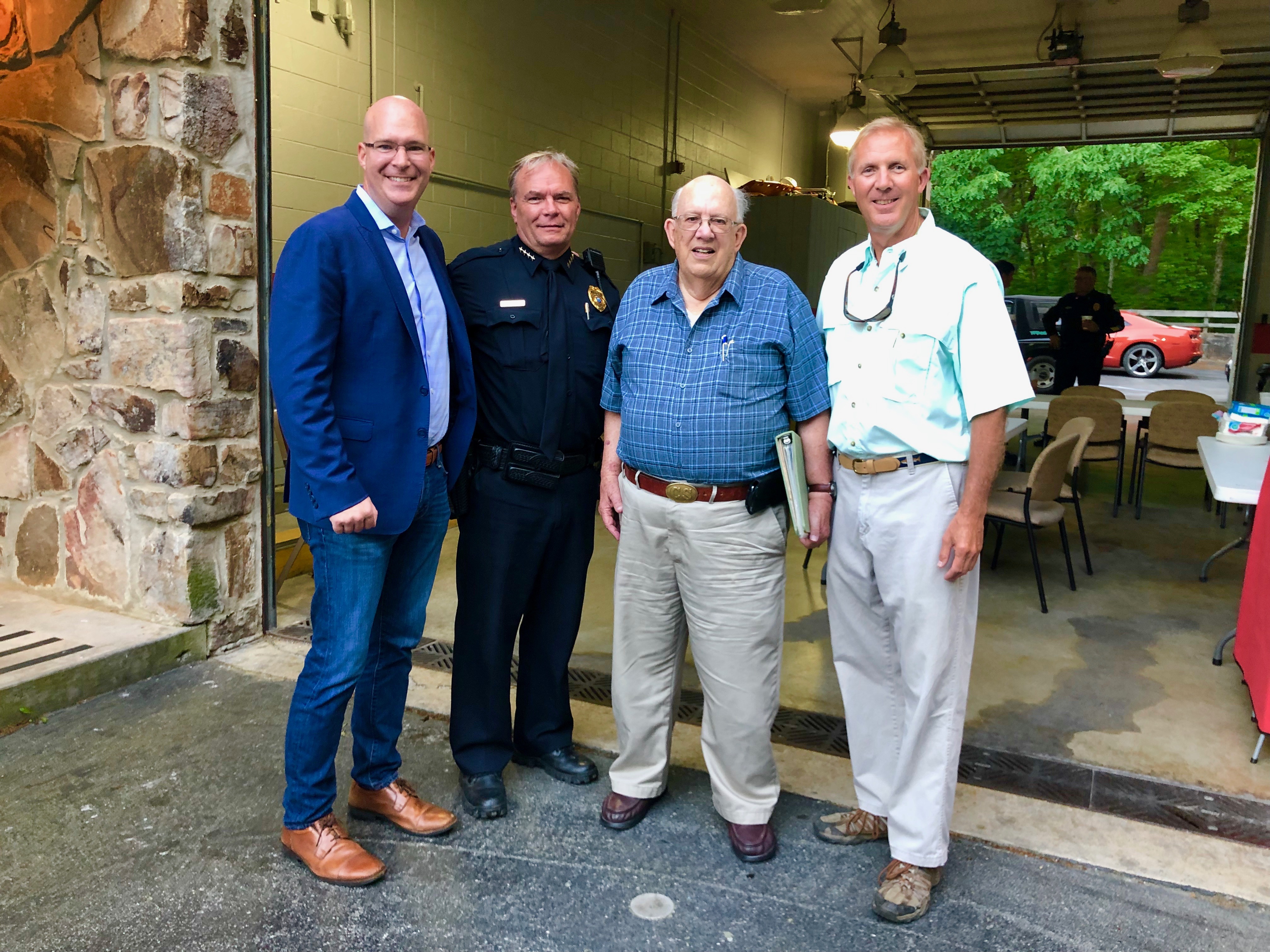 Pictured from left: Greater Downtown Keller Williams Agent Jon Chadwick, Police Chief Chuck Wells, Author, Curator and Historian Charlie Harris, Lookout Mountain Mayor Walker Jones.